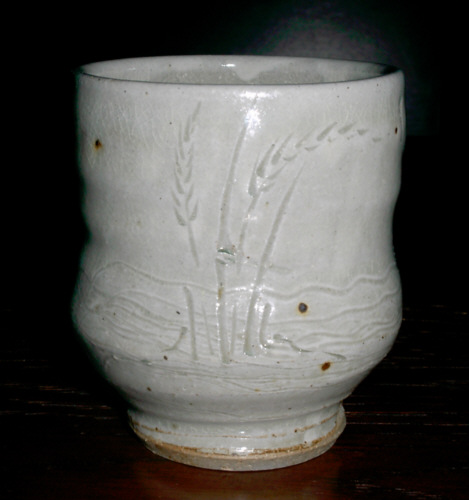 ca. 10,2 x 9,5 cm

(Mike Dodd, around / before 2004)




This is the description from oakwoodceramics:

"Yunomi, stoneware. A beautiful incised and pea-ash glazed yunomi.
The incised pattern depicts wild grasses.
Impressed with MD to inside of the turned foot."


Quite big for a yunomi, but it fits fine in my hands - a bit bigger than Japanese hands, I guess ;-)
The glaze looks much like on some old song dynasty bowls.

Although I'm normally no fan of realistic designs, this pot struck me from the first moment I saw it's picture,
it seems so relaxed and free with its wavy pattern and easy-looking blades of grass, harmonising nicely with the celadon colours.

For further information, you may visit also www.mikedodd.info
and
www.studiopottery.com.