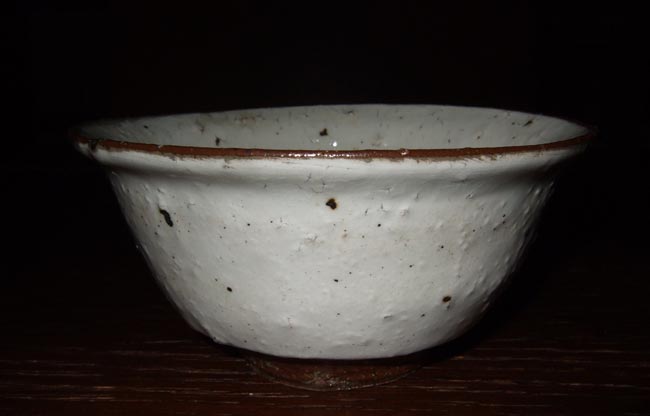 6 x 12 cm

(Araki Yoshitaka, 2007-2008)



Ersteigert auf Eb*. Für mich ist es eine hübsche kleine Teeschale, sandig-rauh schamottierter Scherben, kohiki-Glasur (also Karatsu-Stil).

Zur Schale kam folgende umfassende Beschreibung; so etwas habe ich bislang noch nicht erlebt (Hut ab!):


Japanese Meshiwan (rice bowl) by Araki Yoshitaka

This splendid bowl is a meshiwan (rice bowl). It is the work of a recognized potter named Araki Yoshitaka who was born in Kyoto in 1942. He studied under Kawashima Kozo there and went independent in 1966. After having first worked in Kyoto, Araki set up the Sumiyama craft village with two other potters, in the mountains near Uji, where he eventually moved his kilns. The village now counts more than 20 potters. in 1974 he built a nobori-gama (climbing kiln) and named it Kasatori-shihan-gama, since then he has built other kilns which he uses depending on the type of pieces he is firing. He likes to call himself a "kiln collector".

Araki held his first exposition in Tokyo in 1979, and since then, he has held expositions every year in Tokyo, Kobe, Hiroshima and many other cities across Japan. In 1980 he received an invitation to go to China as an instructor to young craftsmen. And in 1988, it was Vietnam's turn to invite him for the same reason. Araki has been going there every year since then to teach and make potteries. He has also been to Laos to train young potters. In 1992, he held an exposition in Kyoto called "Hanoi-Vientiane-Kyoto". He has also held a couple of expositions in Hanoi; a rare accomplishment for a Japanese potter.

Araki Yashitaka's work is made to be used and enjoyed daily formally or informally. This particular bowl has a beautiful soft milky glaze and will surely brighten tables and meals.

The bowl is new and signed.


Soviel dazu. Jetzt, während ich dies schreibe, ist sie jedenfalls nicht mehr ganz neu, sondern enthält grünen Tee, passenderweise (und zufälligerweise) übrigens tatsächlich vietnamesischen...



---